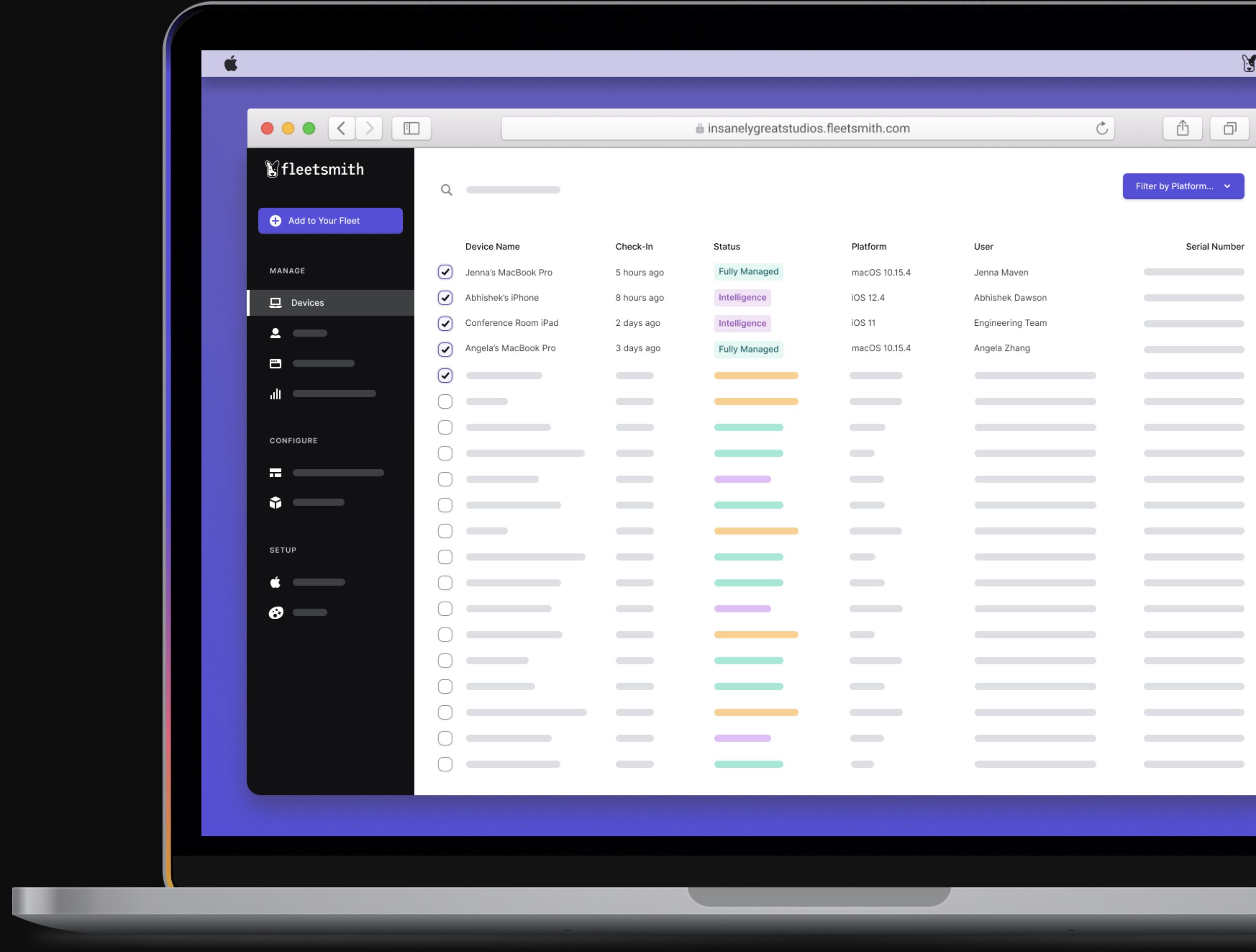 Apple will discontinue the Fleetsmith Enterprise device management service on October 21
Later this year, Apple will discontinue Fleetsmith, its mobile device management (MDM) solution for administrators who need to manage fleets of Apple devices.
The company announced the decision in a supporting document, in which it states that effective April 21, 2022, it has halted new enrollments at Fleetsmith. Existing Fleetsmith customers can continue to use the service until October 21, 2022.
After this date, customers will no longer be able to connect to the service and devices will no longer receive configuration profiles from the Fleetsmith server.
The nature of MDM is that it allows customers to securely and wirelessly configure devices, whether owned by the user or their organization, and Fleetsmith allows users to oversee a fleet of Apple products, managing automatically apps, settings, and security preferences while implementing IT and security best practices.
Apple acquired the enterprise security software in June 2020, and many Apple devices have a built-in framework that supports mobile device management.
To help customers migrate from Fleetsmith to other MDM solutions before it's discontinued, Apple has provided support materials for choosing an MDM solution and planning your MDM migration.
Related stories
Apple introduces new professional training courses and new certifications
Apple today announced new training courses and certifications to help IT professionals learn to support and manage Apple devices in the workplace. Starting today, professional training and updated certifications for IT support and management are available from Apple in a redesigned, online, self-paced format. Users can now demonstrate their abilities with two new courses and…
Apple abandons macOS Server
Apple today announced in a support document that macOS Server will be discontinued beginning April 21, 2022. Apple has been phasing out macOS Server for several years now, and the company is finally ready to shut it down permanently. macOS Server 5.12.2 will be the last version of the app, and macOS Server services have now been migrated to macOS. Popular macOS Server features that include…
iPod Touch removed from Apple website in some countries after being discontinued
A few weeks after Apple announced the discontinuation of the iPod touch, the company began removing the device from its website in some countries. It is no longer possible to access the iPod touch product page on the Apple website in countries such as Canada, Belgium, Finland, France, Germany, Italy, Spain, Singapore, South Korea, Sweden, Switzerland and many more. The page is still…
Apple's Mysterious "Network Adapter" Found in FCC Filing Likely For Internal Use Only
Apple sent a "network adapter" to the FCC for approval earlier this year, an uncovered filing has revealed, though suggestions it could be an AirPort successor or another networking product not advertised for consumer use are probably far from the truth. Consumer networking products from Apple's discontinued AirPort line Every time a company designs a device for use in the United States that…
iPhone users report iMessage deactivation issue related to T-Mobile eSIM accounts [Updated]
Some iPhone users on T-Mobile's cellular service reportedly encountered an eSIM bug that caused iMessage and FaceTime to be disabled for their phone number, with no way to re-enable it. Bloomberg reporter Mark Gurman shed light on the issue by tweeting about his own experience with the issue. Gurman said the only solution that worked for him was to get a physical SIM card. Another…
iPod Touch completely sold out in Apple's US store just days after it was discontinued
Just days after being discontinued, the latest iPod, the seventh-generation iPod touch, is officially sold out in Apple's US online store. Yesterday we reported that some iPod touch configurations were marked as "sold out" in Apple's US store. Now all iPod touch models in all configurations are fully sold out. Apple marked the end of an era this week by announcing…
iPod Touch already "sold" in some configurations after being discontinued
Just a day after Apple announced the discontinuation of the iPod touch, which remains available 'while supplies last', the portable music player is now listed as 'sold out' in certain configurations on the online store. from Apple in the United States. For example, the iPod touch can no longer be ordered with 256 GB of storage in any color on Apple.com in the US, and the (PRODUCT)RED model…
popular stories
iPhone 14 Pro screen refresh rate upgrade could enable always-on display
Last year's iPhone 13 Pro models were Apple's first smartphones to feature 120Hz ProMotion displays, and while both iPhone 14 Pro models will continue to feature the technology, their screens may well boast increased refresh rate variability this time around. To bring ProMotion displays to the ‌iPhone 13 Pro‌ models, Apple adopted LTPO panel technology with variable refresh…
iPhone 14 Pro renders highlight several design changes
Backer Jon Prosser shared seemingly accurate renders of the iPhone 14 Pro today, offering the most accurate look yet at what the device could look like when it launches later this year. In the latest video on YouTube channel Front Page Tech, Prosser revealed renders of the iPhone 14 Pro by Apple concept designer Ian Zelbo, highlighting a range of specific design changes…
Will the iPhone 14 be a disappointment?
With around four months to go before Apple unveils the iPhone 14 lineup, the overwhelming majority of rumors related to new devices have so far focused on the iPhone 14 Pro, rather than the standard iPhone 14. which raises questions about the difference. the iPhone 14 will in fact be derived from its predecessor, the iPhone 13. The iPhone 14 Pro and iPhone 14 Pro Max are expected…
iPhone 14's 'top-of-the-line' front camera will cost Apple three times as much
The iPhone 14 will feature a more expensive "high-end" front camera with autofocus, partly made in South Korea for the first time, reports ET News. Apple has reportedly ousted a Chinese candidate to choose LG Innotek, a South Korean company, to supply the front camera for the iPhone 14 alongside Japan's Sharp. The company originally planned to switch to LG for the iPhone…
Apple shares WWDC 2022 schedule, keynote to be June 6 at 10:00 a.m. PT
Apple today confirmed that the Worldwide Developers Conference main event will begin at 10:00 a.m. PT on June 6, the first day of WWDC. The keynote will be an online-only event, although a number of developers have been invited to the Apple Park campus for a viewing event. In addition to confirming the keynote date and time, Apple has shared the full WWDC 2022…
Apple Announces Pride Edition 2022 Watch Bands and Face
Apple today announced new Pride Bands for the Apple Watch, with new Pride Edition Sport Loop and Pride Edition Nike Sport Loop options available. The new Pride Edition wristbands are available to order today for $49 on Apple.com and in the Apple Store app, and will be available in Apple Store locations starting May 26. The Nike Sport Loop Pride Edition will also soon be available on Nike.com. This…