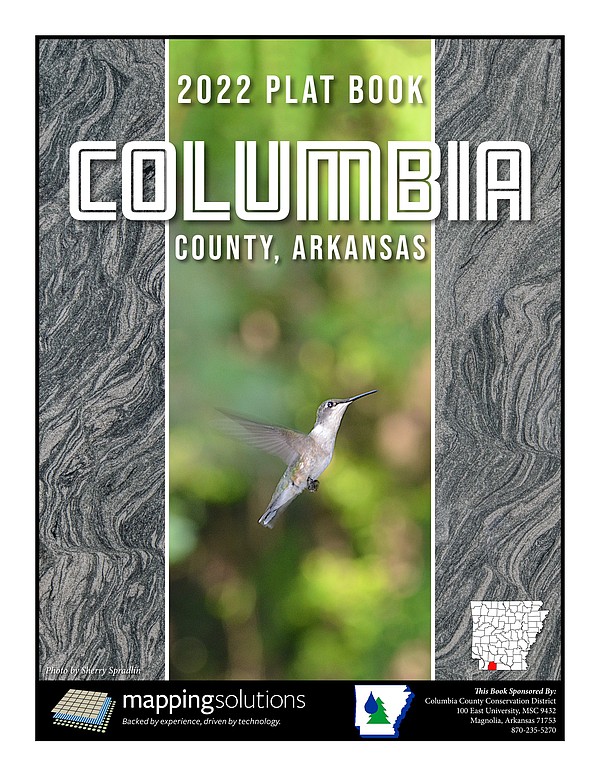 Columbia County 2022 Plat Book is released, available for purchase
COLUMBIA COUNTY, ARKANSAS – The Columbia County Conservation District, along with Mapping Solutions, announced the release of the newly released Columbia County Plat Book. This spiral-bound book features standard land ownership map pages showing county townships and ranges, including property lines for all rural parcels. In addition to land ownership maps, new and improved LiDAR aerial view maps show a 3D-like topographic look on local lands.
This updated edition includes information about the Columbia County Conservation District, a current county government directory, electoral district map, school district map, township maps and more.
This information is valuable to anyone interested, especially those who own land in Columbia County. Potential homeowners or neighbors, hunters, foresters, timber and petroleum industry personnel, emergency services and many others could benefit from this valuable information.
The 2022 Columbia County Plat book is available for purchase for $75 at the Columbia County Conservation District located in the Reynold Building Room 102J on the campus of Southern Arkansas University. Office hours are Tuesday and Thursday from 9:00 a.m. to 2:30 p.m. Plat Books can also be purchased at the Columbia County Judge's Office located on the first floor of the Columbia County Courthouse. Office hours are Monday to Friday 8:00 a.m. to 4:30 p.m.
Wall maps, a smartphone compatible SmartMap and an eBook version are also available for purchase by visiting www.mappingsolutionsgis.com.
"Mapping Solutions appreciates the opportunity to partner with the Columbia County Conservation District and release this valuable resource supporting the local community," said Randy Waldorf, owner of Mapping Solutions in Kearney, Missouri. "Mapping Solutions serves more than 600 counties in 18 states providing the highest quality map products and exceptional customer service."
Visit www.mappingsolutionsgis.com to learn how your unique mapping needs can be met.
Printed Title: Columbia County 2022 Plat Book is published, available for purchase