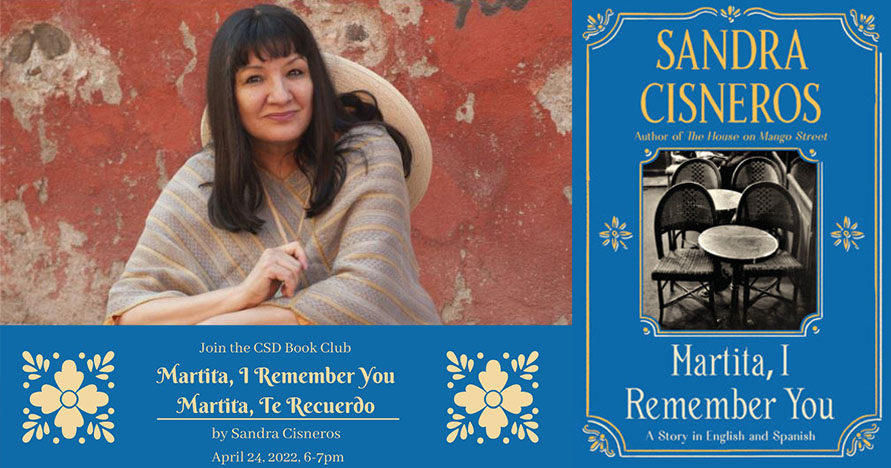 Conversation with the Uni Hills book club: "Martita, I remember you" by Sandra Cisneros
Join the Community Safety and Diversity (CSD) Book Club for a Discussion on Sandra Cisneros Martita, I Remember You/Martita, you recuerdo. This discussion is a supplement to our book talks with Sandra Cisneros on April 28.
UCI affiliates may request a digital copy of Martita, I Remember You/Martita, you recuerdo going HERE. Please note that your UCInetID will be required.
ABOUT MARTITA, I REMEMBER YOU/MARTITA, TE RECUERDO (Penguin Random House):
The acclaimed best-selling author of The House on Mango Street "is back with her first work of fiction in nearly a decade, a story of memory and friendship [and] the experiences endured by young women as immigrants around the world" (AP). In this masterfully written bilingual edition, a long-forgotten letter sparks a charged encounter with the past.
As a young woman, Corina left her Mexican family in Chicago to pursue her dream of becoming a writer in Parisian cafes. Instead, she spends her brief stay in the City of Lights running out of money and queuing with other immigrants to call home from a broken payphone. But months spent befriending beggar artists on the subway, sleeping on crowded floors, and tango-dancing at underground parties are lastingly enhanced by his intense friendships with Martita and Paola. Over the years, the three women scatter across three continents, losing touch and mind, until a rediscovered letter brings Corina's days back to Paris with breathtaking immediacy.
Martita, I Remember You is a rare bottle from Sandra Cisneros' own special reserve, preserving the smoke and sparkle of an exceptional year. Told with intimacy and searing tenderness, this tribute to the life-changing power of youthful friendship is Cisneros at its vintage best, in a beautiful bilingual edition.
Please direct all inquiries to [email protected]
University Hills Social Lounge/Media Center Community Center, 1083 California Ave, Irvine, 92617