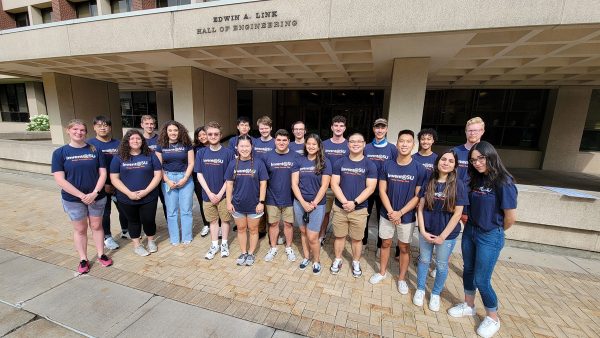 Portable dehydration monitor takes first place at Invent @ SU 2021
During the first few weeks of Invent @ SU, physics student Paul Franco '22, aerospace engineering student Zach Stahl '23 and computer science student Anthony Mazzacane '24 were not always sure their concept would work. . They had identified a clear problem – 80% of NCAA athletes had suffered from dehydration but finding a solution was not easy. They wanted to design a portable device that could monitor an athlete's hydration level so that coaches and coaches had better information and keep athletes safe, but would also have to prove that their invention worked.
"We knew the scientific principle worked, but in the first few weeks we had logistical issues with the prototype," says Franco.
As they progressed, they used their different skills to solve problems with sensors, data collection and a prototype model.
"Being interdisciplinary forces you to step out of your comfort zone in a very good way," explains Mazzacane.
"Sweatration" was one of seven interdisciplinary teams of undergraduate inventors participating in the six-week Invent @ SU program. Before the first week of the program, professors help form interdisciplinary teams of three people who balance different skill sets. Each team comes up with a concept for an original invention, searches for existing patents to make sure their idea is unique, develops a prototype, and presents it to weekly guest reviewers before the final 'Shark Tank' style judging at the end of the sixth. week.
The Sweatration team worried that the initial reviewers were skeptical and knew they had to back up their idea with hard data. They also met with a sports coach from Syracuse University to get their advice.
"After each pitch, I wanted as much feedback as possible," says Franco.
The trainer was very supportive of the idea and did not believe that there was something like this that currently existed. As their pitch improved, the technical challenges were overcome as well. During a week five of testing their prototype at the Barnes Center, the team found that they were collecting significant data and that their prototype could reliably show when the wearer became dehydrated.
"We had improved the prototype for a better fit and better connections for the technology inside," says Stahl. "When I saw that it was providing data and constantly indicating dehydration, I was thrilled. "
Notable alumni, entrepreneurs and innovators who served as final judges awarded Sweatration first place and a prize of $ 7,500. They plan to continue their invention and will work with both Blackstone Launchpad in the Bird Library and the Innovation Law Center as they advance.
Second place at Invent @ SU went to Ambiflux, a device that can both monitor asthma problems and deliver medication.
"It was good to be recognized for all the time and energy we put into this," said Victoria Hathaway '22, major in bioengineering and neuroscience. "It is an important device that is needed for a real cause."
"To see that the judges saw what we saw, it was very gratifying," says Aidan Mickleburgh '23, a computer engineering student. Mickleburgh is also in the H. John Reilly Dual Engineering / MBA program.
"It was good that they enjoyed how all the concepts and elements came together," says Trinity Coates, 24, a chemical engineering student.
Third place went to Sense-A, a monitoring and alerting device that can help those caring for a family member with Alzheimer's disease.
"It was a great experience, unlike anything I had at university," said Hong Yang Chen '22, a computer science student. "Building a physical prototype was a big challenge. "
"The good feedback from the judges and assessors was very helpful and they saw the difficulties that caregivers are currently facing," says chemical engineering student Simran Lakhani '22.
"We will definitely go ahead and work with Blackstone Launchpad," says Biomedical Engineering student Gabriela Angel '21 G'22.
An honorable mention to Invent @ SU was awarded to Glisten. They designed a device to help people monitor their dental health at home and provide pre-diagnostic information to a dentist.
"Being able to research, design and build a working prototype in six weeks is intense, but the expertise of faculty and reviewers made it possible," says Bianca Andrada, a bioengineering student.
"Our team was a good balance of different skills and perspectives," says Ahn Dao '23, major in industrial and interactive design.
"We are passionate about keeping the world smiling," says biology student Justin Monaco '21 G'22.
Invent @ SU was sponsored by Syracuse University Administrator Bill Allyn G'59 and Janet "Penny" Jones Allyn '60, Dr Deborah L. Pearce and William J. Sheeran '60, G'63, G '66, Matthew Lyons '86, Haden Land G'91 and Cathy Land, Ralph Folz, 90, Michael Lazar G'65 and Avi Nash G'77. For more information on the program, visit invent.syr.edu.