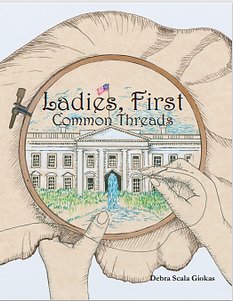 Sayville resident publishes children's book about first ladies
Marianne Dominguez
First ladies are an important group that tends to be forgotten by history. On June 2, National First Ladies Day, a new book for readers ages 9 and up will attempt to address that fact. "Ladies, First: Common Threads" is Sayville resident Debra Scala Giokas' second book and her first that touches on first ladies.
The book delves into the stories of 18 first ladies and focuses on those who, at some point in their lives, knit, crochet, embroider, quilting, cross-stitch or sew. The book features photos of the ladies' work and tells stories that humanize these extraordinary women.
Scala Giokas, who is an avid crocheter, said she had the idea to write this book after learning that Ida McKinley had crocheted 4,000 slippers in her lifetime. She was originally going to write a picture book about McKinley, but decided to spotlight more first ladies and their work. Scala Giokas noted that as a society, we tend to know a little more about the early first ladies as well as the newer ones, but not much about those in the middle.
Much research has gone into the book, with Scala Giokas reaching out to libraries and museums nationwide to gather information. She learned a lot of interesting stories about the first ladies, like the fact that Dolley Madison's favorite ice cream flavor was oysters. She also shared that Martha Washington was a master seamstress.
"She was very practical, but also very artistic," Scala Giokas said. "A lot of things she did had to be used."
Scala Giokas also talked about Eleanor Roosevelt, who was a knitter. Through her research, Scala Giokas learned that whenever Eleanor Roosevelt sat down, she was knitting. She always kept a book in her knitting work as well as her knitting supplies.
"They were almost becoming my friends in a way because when you start writing about them, you try to get into their heads and their hearts a little bit," Scala Giokas said of the various first ladies she's featured on. wrote. "It was like untangling a skein of yarn, if you will."
The book also contains virtual sites children can explore to learn more about the ladies, as well as historical sites they can visit in person.
Scala Giokas is a professional member of the Crochet Guild of America and makes crochet dolls, which she sells on Etsy.
"I didn't like knitting, but I'm an avid crocheter," Scala Giokas said. "I learned when I was about 9 and let it go as we all get involved in high school and things like that, but about 12 years ago I got into crochet again."
"Ladies" is Scala Gioka's second book. Last year, she released the picture book "Claire: The Little Girl Who Soared to the Top and Changed the Way Women Dress." The illustrator she worked with for this book, Mary Ryan Reeves, illustrated the cover of "Ladies".
"Ladies, First: Common Threads" is available on Amazon. Coming soon, Scala Giokas will speak at the Oyster Bay Historical Society on June 25 at 1 p.m. Event information is available at https://www.eventbrite.com/e/ladies-first-common-threads-tickets-347302520187.