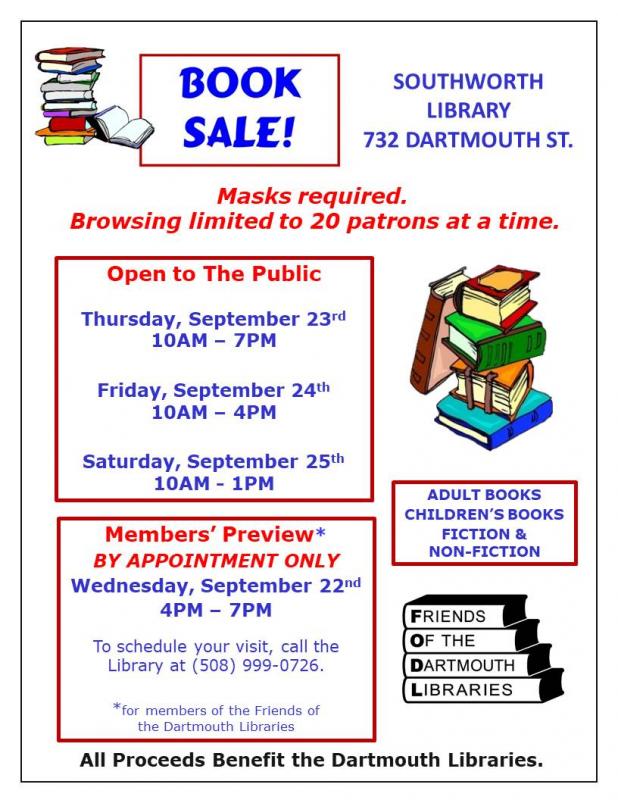 Southworth Library Book Sale – A Great Community Event is Back!
[ad_1]
The Friends of Dartmouth Libraries will sponsor their Autumn Book Sale at Southworth Library from Wednesday September 22 to Saturday September 25. Thousands of books, all in good condition, will be available for purchase. Book prices typically range from 50 cents to $ 2.
General sales hours are Thursday, September 23 from 10 a.m. to 7 p.m. Friday, September 24, from 10 a.m. to 4 p.m. and Saturday September 25 from 10 a.m. to 1 p.m.
A preview for Friends will take place Wednesday from 4 p.m. to 7 p.m. Due to the popularity of the Member Preview, pre-registration is required. Members can register for a 45-minute time slot starting at 4 p.m., 5 p.m. and 6 p.m. by calling the library at (508) 999-0726. Only 20 openings are available for each timeslot, so members are encouraged to call early.
To ensure the safety of buyers and volunteers, masks will be mandatory to access the sale, and navigation will be limited to 20 customers at a time throughout the sale.
Memberships can be renewed or purchased at the door throughout the sale. All members will receive a coupon for a free book at regular price.
Proceeds from the sale allow the Friends of Dartmouth Libraries to provide free educational programs for adults and children; providing economical passes for museums, parks and zoos; host the annual Molly Little Film series; and fund special library events and purchases. Other sources of funding are the annual membership drive and the ongoing sale of books at both libraries.
The sale will take place in the Haskell Room of the Southworth Library, 732 Dartmouth Street. For more information, please contact [email protected]
[ad_2]